This post is an informational post only.
My love for the 1978 Indy 500 Pace Car is the reason that I spent a lot of hours researching and even a lot of time traveling to find the four original 1978 Corvette Pace Cars that were at the Indy 500 on May 28, 1978. I recently completed my search by finding the missing 4th Pace Car. So, I'm posting this information for all Corvette, Pace Car, and future Pace Car Owner's to read and enjoy.
Several people have asked me why there were not more 1978 Corvettes at the race to be used as Festival Cars. Well simply, Chevrolet did not have enough of these Pace Cars ready in time for the big race. All other 1978 Indy 500 Festival Cars were 1978 Monte Carlos There were only four (4) Corvettes at the track for the 1978 Indy 500.
The below information includes the designation, Spec's, assignment, and current location for each of the four 1978 Corvette Pace Cars.
Pace Car #1 (Back Up Pace Car) Serial# 1Z8748S416658 (8Y047)
Specifications: Production pilot line, RPO Z-78 modified with high performance hydraulic cam L-82 engine, low restriction exhaust system, qualified driveline components for maximum street performance and handling.
Assignment: This vehicle was used trackside by Chief Steward of the race for the entire month of May for practice and qualification runs. On race day this car was parked at the head of Pit Row as a back up Pace Car in the event that the Official Pace Car experienced any problems.
Location: This vehicle is currently at the Indianapolis Motor Speedway Museum for permanent exhibition in lieu of the Actual Pace Car.
Pace Car #2 (Actual Pace Car) Serial# 1Z8748S900001 (8Y052)
Specifications: The first production line build of RPO Z-78 Limited Edition Corvette. This vehicle received qualified production engine and driveline equipment and retained all certified emission equipment and original air conditioning system. The CB radio was reworked to speedway frequency.
Assignment: This vehicle was the #1 production stock Limited Edition Corvette that was used as the Official Pace Car driven by Jim Rathmann in starting the 62nd Annual Indianapolis 500 Mile Race on Sunday, May 28, 1978.
Location: This vehicle was classified as a corporate historical vehicle and was returned to Chevrolet for placement in the GM Heritage Collection outside of Detroit, MI.
Pace Car #3 (Parade Lap/Winner's Car) Serial# 1Z8748S900002
Specifications: This was the #2 production RPO Z-78 Limited Edition Corvette with all available options and automatic transmission equipped.
Assignment: This vehicle was used as one of two V.I.P. Parade vehicles prior to the start of the race.
Location: The keys to this vehicle were presented to the Indianapolis 500 winning driver (Al Unser Sr.) at the Victory dinner at the Indianapolis Convention Center on Monday evening, May 29, 1978. This Pace Car is in the possession of Al Unser at his home in Albuquerque, NM.
Pace Car #4 (Parade Lap Vehicle) Serial# 1Z87H8S400006 (8Y000)
Specifications: This vehicle was an engineering prototype used throughout the production for RPO Z-78 development and sales promotional purposes. Production engine (L-82) and driveline with no rework.
Assignment: This vehicle was the second V.I.P Parade Lap Corvette on the track prior to the start of the Race. U.S.A.C. had requested the use of this vehicle as their Official Pace Car for the balance of their 1978 Championship Car race series which would provide continued press and TV exposure through November 1978. The Sales Department had approved this consignment and the vehicle was turned over to U.S.A.C. at the completion of the Indy 500.
Location: For privacy reasons I will not release the name of the new owner of this Pace Car. This Pace Car was auctioned off in Palm Beach, FL at the Barrett-Jackson Auction on April 11, 2009. This Pace Car sold for approximately $29k and was sold with a scrap title. This vehicle is currently in the possession of a Chevrolet Dealer in Kansas.
__________________________________________________________________________________________ 
I hope everyone found this useful or at least an enjoyable read. If anyone wants more information or would like to talk about these Pace Cars I can be reached at cilrah@c3vrmail.com
Remember this post is designed to provide information only, if you like to post about these Pace Cars then there is the post "All Pace Cars Found" at the below link.
Cilrah
"Keep up the Pace"
(inserted link)

cilrah
2010-01-25 21:31:21
______________
MARK
LIFETIME MEMBER #117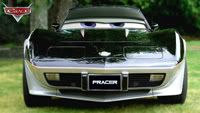 Click here to see my new friend P-Racer
"Keep up the Pace"