Daughter and I went for a ride (1/18)
3/18/07 1:20am
It was SOOOOO nice today! My daughter (who is 11) and I went for a ride, t-tops off. It was fun! Even had a group of kids (high-school aged) yell "Nice Car!"
Our Sponsors help support C3VR

Daughter and I went for a ride (2/18)
3/18/07 5:36am
Forget the weather,forget the vette,but riding with a daughter.....thats as good as it gets! Enjoy every day with her you can,she'll be on her own before you know it.
Daughter and I went for a ride (3/18)
3/18/07 12:33pm
Mike's right, my son's 21 now and off in college, I miss the days I would spend with him. But sounds like your having a better weekend then we are alittle north of you. It started raining early yeasterday afternoon, when will it all stop
I'm so ready for spring.
______________
MARK
LIFETIME MEMBER #117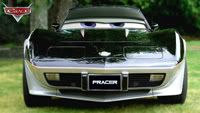 Click here to see my new friend P-Racer
"Keep up the Pace"
Daughter and I went for a ride (4/18)
3/18/07 4:50pm
We could sure use some of that rain down here but it all went north to you folks. Guess we'll just have to make the best of all this sunshine
How sweet it is.
______________
Jimmy B.
Just can't wait to get on the road again.



Click to see larger views!
Daughter and I went for a ride (5/18)
3/18/07 5:26pm
Glad to see that you're out on the road! It's almost 70 here today, so I went for a short drive myself.
Daughter and I went for a ride (6/18)
3/18/07 7:07pm
Mikeee and Mark, I hear ya! Time with the kids is priceless. I'm fortunate they both love the Vette! Tonight will probably be game night. It's fun to have the whole family play a game together.
Daughter and I went for a ride (7/18)
3/18/07 9:00pm
Wait until they are in junior or high school and take them to school in the vette. It really impresses their friends
.
Daughter and I went for a ride (8/18)
3/18/07 9:44pm
My son is in 8th grade; starting HS next year
. (How'd I get that old....) Occasionally I'm home when he leaves for school. When I ask if he wants a ride rather than take the school bus, he asks "In which car?" If I say the Vette, he wants a ride. Any of the other vehicles, he passes.
Shortly after I got the Vette, my daughter (who is in 5th grade) was telling her friends that her mom got a Corvette. She couldn't believe their response...."What's a Corvette?"
Daughter and I went for a ride (9/18)
3/18/07 10:52pm
Man, your lucky Karen, your kids love your Vette and they like to spend time with you in it....
I went to the new car show today with my son (24). I had to baby sit some vet club members cars there for my club, then we went lookin' at the (Fugly) new cars. When I got home all I could think about was driving the Gold Thang. Josh (my son) wanted to go look for some CD's so we went in the Gold Thang.
My son goes, "Gee Mom, why do you always want to drive this old thing for, let's take the C5." "If I were you, I would sell it and buy a Lincoln."
I swear, I don't know where that boy came from!
I'll have to leave it to someone else (that appreciate it for what it is) when I pass away (hopefully a long time from now).
Daughter and I went for a ride (10/18)
3/19/07 11:13am
I feel you Karen, my daughter is 10 and my son is 12. I love to drive the vette with my daughter. Sometimes she's interested other times she'd rather play with her Bratt dolls. I really want her to have the car when I'm gone
. Want to add her to the lady vette owners. Guess it'll come in time. My son is somewhat interested but would rather play video games! Picked him up from school one day got a lot attention from the kids and teachers.
Oh well, don't mind driving alone too!
June