Gettin Greasy (1/38)
3/2/07 4:57pm
OK girls....Who actually works on their Vette?
I don't have a clue about how to work on any car, but would like to learn. A local club, Mt Hood Corvettes, has periodic "Tech Days" where people bring their Vettes for various projects. I'm thinkin this would be a great place to learn (provided they accept our membership application). Anyone got any other ideas????
Karen
Our Sponsors help support C3VR

Gettin Greasy (2/38)
3/2/07 5:02pm
I think the girls could learn just like a lot of us guys do. Just go in, take it apart and then take way too long putting it back together again...
Gettin Greasy (3/38)
3/2/07 5:07pm
Yeah John, but I'm afraid to start...I want my Vette to work...
(By the way...I just hit post 100!)
kkfinch
2007-03-02 14:08:19
Gettin Greasy (4/38)
3/2/07 5:40pm
Yes, I'd like to learn more about my car too. Love to fix something but I'm not about to take anything apart unless I
know
exactly how to put it back. I'm chickin! My car club is going to have a tech day soon and work on my car. So I'll learn a little too. Would be nice if there were an on line car repair course to take. I also read a repair book which shows me the names of the parts, which is helpful.
June
Gettin Greasy (5/38)
3/2/07 5:43pm
Sorry for stepping into the ladies section but I though I would make a comment. Tech sessions are great if you can make it to them. But spend some time reading up on what your going to work on before you start. Surf the net for articles, ask lots of questions and take lots of pictures as you go. The projects always take longer than expected so the pictures will help you remember when its time to put it back together. Start with the easy stuff first. It helps build confidence. My daughter is 16 and driving. So part of the requirement for being able to drive is learning to take care of her car. Any work or maintenance required, she has to be right there with me. She now knows how to change the oil and anti-freeze. This weekend she will learn how to change wiper blades and clean the battery posts. Just don't be afraid to ask questions here. All of us are more than happy to help
Gettin Greasy (6/38)
3/3/07 4:52pm
Sorry for stepping into the ladies lounge, but I can't resist helping (hopefully) by giving my 2 cents.
Everybody should properly use a jack and change a tire BEFORE they have to.
Pop the hood and see where the brake fluid goes. Don't confuse it with the windshield washer fluid!!
Check the oil level and transmission fluid level.
Find out where to add them when low.
Make sure you have the right stuff.
Just learning some of the basics is a good start.
______________
Save the Wave!
Support the National Corvette Museum
Gettin Greasy (7/38)
3/3/07 5:44pm
[QUOTE=jgoglick]
I think the girls could learn just like a lot of us guys do. Just go in, take it apart and then take way too long putting it back together again...
[/QUOTE]
Ya I tried this method with changing out my steering wheel, thats why it won't telescope anymore and I now have two very tiny screws left over after I reassembled it
All I can say is becarful what you do mess with, and maybe have a friend (with some mechanical ability) with you the first time you do decide to do a project
Congratz on your 100th post
cilrah
2007-03-03 14:47:07
______________
MARK
LIFETIME MEMBER #117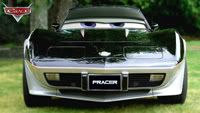 Click here to see my new friend P-Racer
"Keep up the Pace"
Gettin Greasy (8/38)
3/3/07 6:04pm
them 2 tiny screws are what lolock the tele set up, just did mine easy and i'm female
Joanne
2007-03-03 15:05:30
______________
1979 Corvette
Gettin Greasy (9/38)
3/3/07 6:42pm
Well, I'm a female too and I know how to change my tire (had a blow out one day on the freeway). I had a little trouble opening up the spare tire holder cuz I never did it before and I even figured out the jack (the original one) and it took me awhile, but I got it going. I got it on a good stable part under the car so the car wouldn't fall off the jack while I was tuggin on the lug nuts to loosen them up and take em off. I could have called AAA, but I didn't.
I know where the oil goes and the dip stick, plugs, etc. I want to know more, but there's nobody to show me. This sounds bad, but I take the Assembly Manual to the bathroom and while I'm sittin' there, I read it and study where certain parts go, the names of the parts and the part numbers. I can concentrate better in there.
I don't have all the tools I need and man would I LOVE A LIFT...........that would be so SWEET!!!!
I took apart the console and the instrument bezel to check on a problem. Fixed the problem and got it all back together by myself!!! I felt GREAT!!!
I wish there was someone close to where I live so I could learn from them and help also. I want GREASY HANDS!!!
Gettin Greasy (10/38)
3/4/07 10:43am
Ladies, when it comes to putting it back together again, a digital camera is your best friend. When I'm tackling something Im not totally familiar with, I take LOTS of digital photos so I will know how it goes back together... they have saved me on several occasions.